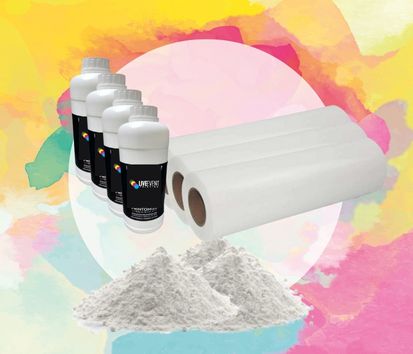 DTF Printer Consumables
Welcome to Live Event Printing's DTF Printer Consumables Hub!
In the dynamic world of Direct-to-Film (DTF) printing, the quality of consumables can make all the difference. At Live Event Printing, we understand the pivotal role that top-notch consumables play in achieving vibrant, long-lasting, and consistent prints. Whether you're a seasoned printing professional or just starting out, our curated range of DTF printer consumables ensures that every print job is a masterpiece.
From premium inks to eco-friendly cleaning solutions, our selection is meticulously sourced to guarantee optimal printer performance and outstanding print results. Dive in and discover the secret behind impeccable DTF prints – it all starts with the right consumables.
Elevate your printing game with Live Event Printing. Quality, reliability, and excellence – all in one place.
Why Choose Our Design Services?
Expertise Matters:
Our team of professional designers brings years of experience to the table, ensuring your banners and ads are not just visually appealing but also effective in conveying your message.
Tailored to Your Needs:
We believe in a personalized approach. Our designs are customized to reflect your brand's unique identity and values.
High-Quality Graphics:
With our state-of-the-art tools and technology, expect nothing less than crisp, high-resolution graphics that look stunning across all platforms.
Cost-Effective Solutions:
Quality doesn't always have to break the bank. We offer competitive pricing without compromising on the excellence of our designs.
Submit Your Information and Get a Quote
Provide as much information as you can so that we can be better prepared when we talk about your business needs.