Business Branded Banners and Ad Designs:
Welcome to Live Event Printing's Banner & Ad Design Services!
In today's fast-paced digital age, standing out is more than just being seen—it's about making an unforgettable impression. At Live Event Printing, we specialize in crafting banner and ad designs that not only capture attention but also resonate with your target audience.
Why Choose Our Design Services?
Expertise Matters:
Our team of professional designers brings years of experience to the table, ensuring your banners and ads are not just visually appealing but also effective in conveying your message.
Tailored to Your Needs:
We believe in a personalized approach. Our designs are customized to reflect your brand's unique identity and values.
High-Quality Graphics:
With our state-of-the-art tools and technology, expect nothing less than crisp, high-resolution graphics that look stunning across all platforms.
Cost-Effective Solutions:
Quality doesn't always have to break the bank. We offer competitive pricing without compromising on the excellence of our designs.
Reasons to Trust Live Event Printing:
Seamless Design-to-Print Rationale:
When it comes to creating impactful visuals, consistency and quality are paramount. By having your designs created at the same place as your prints, you ensure a seamless transition from concept to final product. Here's why:
Consistency in Vision: The team that crafts your design understands the nuances and intricacies of the concept. When they handle the printing, this vision remains undiluted, ensuring the final print mirrors the original design intention.
Technical Compatibility: Designers and printers working under the same roof are well-versed with the technical specifications of each other's processes. This means designs are created with the printing capabilities in mind, reducing the chances of technical glitches or mismatches.
Time Efficiency: Eliminate the back-and-forth between separate design and print vendors. With a unified process, revisions are quicker, communication is streamlined, and the overall turnaround time is significantly reduced.
Cost-Effective: Often, bundled services come with cost benefits. By consolidating the design and print process, clients can often avail of package deals or discounts, ensuring they get the best value for their money.
In essence, choosing a one-stop shop for both design and print ensures a harmonious blend of creativity and technical precision, delivering results that are both aesthetically pleasing and of the highest quality.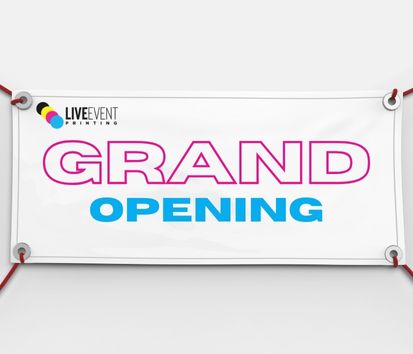 Proven Track Record:
Over the years, we've helped countless businesses amplify their brand presence with our top-notch designs.
One-Stop Shop:
From conceptualization to final design, we handle every step of the process, ensuring consistency and quality throughout.
Timely Deliveries:
We understand the importance of time in business. Our team is committed to delivering your designs within the stipulated timeframe.
Client-Centric Approach:
Your satisfaction is our top priority. We're always open to feedback and revisions to ensure the final design aligns with your vision.
Your Journey with Live Event Printing's Banner & Ads Service: A Simple 3-Step Process
Experience the ease and excellence of working with Live Event Printing. Let's bring your vision to life, one print at a time!
01
Consultation and Design Discussion
:
Meet & Greet: Schedule a consultation with our expert design team to discuss your vision, brand identity, and specific requirements.
Brainstorming Session: Our designers will collaborate with you to brainstorm ideas, ensuring the final concept aligns with your brand's message and goals.
02
Design Creation & Review:
Crafting the Visuals: Leveraging the latest design tools and trends, our team will craft a banner or ad that captures attention and resonates with your target audience.
Feedback Loop: Review the initial design draft and provide feedback. We believe in a collaborative approach and will make revisions until you're completely satisfied.
03
Finalization & Printing:
Seamless Integration: Once the design is finalized, it's time for printing. With our state-of-the-art printing technology, expect vibrant, high-quality results.
Quality Check & Delivery: Every print undergoes a rigorous quality check to ensure it meets our standards. Once approved, your banners and ads are ready for delivery or pick-up.
Submit Your Information and Get a Quote
Provide as much information as you can so that we can be better prepared when we talk about your business needs.